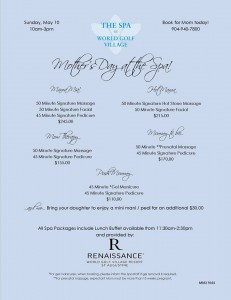 Mother's Day can be hard to plan for…what to do? Where to go? What to buy her? Luckily, this year there is a LOT going on right in our own backyard for the whole family to enjoy. Make this Mother's Day a "staycation"!
Black and Blue Grill: Did you know Black and Blue Grill just won Best Family Restaurant by the Taste of St. Augustine? They are offering a delicious Mother's Day menu from noon to 9 pm on Sunday, May 10th. Reservations recommended! Find more information on their Facebook Page.
The King & Bear Clubhouse: Enjoy a Mother's Day brunch buffet at the King & Bear Clubhouse from 11 am to 3 pm. The buffet includes everything from an omelet station to raspberry glazed salmon and a prime rib carving station! Non-members welcome. Reservations required – (904) 940-6207.
read more +